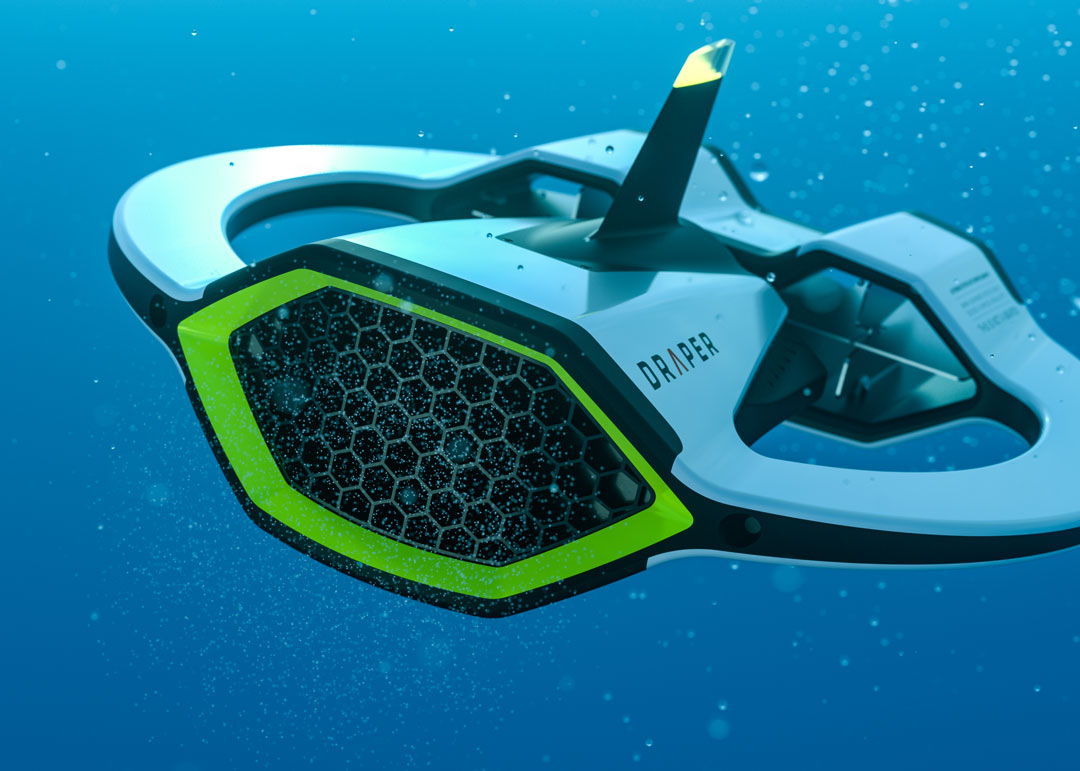 Main navigation
Microplastics Sub
Ingested by sea life, microplastics in ocean water enter the food chain and potentially can affect human health. These tiny plastic particles sorb toxins such as PCBs, DDT, flame retardants and dioxins so readily that the concentrations of toxins on microplastics are significantly higher than in the waters around them. Assessing the risks posed by microplastics in the seas is hampered by lack of data, and conventional methods of collecting such data are laborious and costly. Toward the ultimate goal of helping researchers map the global distribution of microplastics in the world's oceans and monitor changes over time, Draper is designing an affordable sensor to perform ongoing data collection and analysis throughout the seas.
Sub Concept Design
Autonomous underwater vehicle design concept implementing Draper's microplastic sensor technology.
As an alternative to going to sea to collect water samples and transporting them to laboratories for analysis, Draper's portable sensor could be deployed in the ocean (e.g., aboard ships or on docks) to measure microplastics. The sensor is being designed to rapidly count, measure the size of, and determine the material makeup of microplastic particles in real time. This project leverages Draper's deep expertise in advanced sensor technology, microfluidics and ruggedized electronics.
Researchers are using different approaches for processing and presenting microplastics data, which makes it difficult to compare their results and draw conclusions. Draper is collaborating with the Environmental Protection Agency (EPA), Region 9, on this problem. The EPA Region 9 team is working closely with the American Society for Testing and Materials (ASTM) on the development of a standard for microplastics identification in environmental samples, which will improve the quality and comparability of data across studies.
Draper has begun testing its prototype sensor in the field most recently on a boat deployed to the Northwestern Hawaiian Islands in partnership with the EPA. Future versions of the sensor could be installed on autonomous vehicles to monitor microplastics across large areas and even at various depths of the oceans.
Concept Development
Concept sketches of the AUV. Credit: Sprout Studios
A vision that Draper shares with EPA Region 9 is of distributed, networked sensors that constantly collect data from around the world. Sensor data would be transmitted wirelessly and posted regularly on a website called the Plastic Particle Pollution index (PPPi). A system using the forthcoming ASTM standard, an open-source sensor design and a shared central data repository, would support comparative analysis of research done by scientists around the world.
Over time, the website's expanding data trove would provide a "plastic smog" rating and trend analysis. Long-term, it would enable assessment of the influence of ocean currents, major weather events (e.g., tsunamis) and weather phenomena (e.g., El Niño) on microplastics distribution through the oceans.
A system that makes available consistent, real-time, in situ measurements of microplastics will help researchers understand how these tiny particles affect animals, the environment and humans. This will enable policymakers to make informed decisions on how to address the sources of microplastics in the oceans, such as failed refuse management programs on land.
Source: Microplastics Sensor | Draper