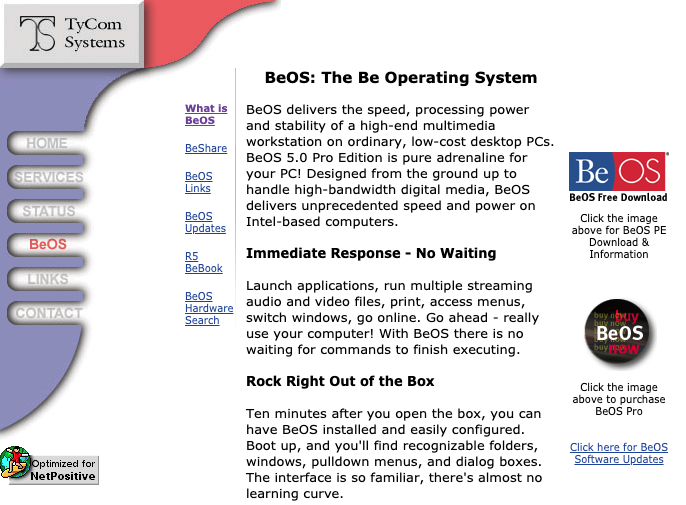 BeOS: The Be Operating System
BeOS delivers the speed, processing power and stability of a high-end multimedia workstation on ordinary, low-cost desktop PCs. BeOS 5.0 Pro Edition is pure adrenaline for your PC! Designed from the ground up to handle high-bandwidth digital media, BeOS delivers unprecedented speed and power on Intel-based computers.
Immediate Response – No Waiting
Launch applications, run multiple streaming audio and video files, print, access menus, switch windows, go online. Go ahead – really use your computer! With BeOS there is no waiting for commands to finish executing.
Rock Right Out of the Box
Ten minutes after you open the box, you can have BeOS installed and easily configured. Boot up, and you'll find recognizable folders, windows, pulldown menus, and dialog boxes. The interface is so familiar, there's almost no learning curve.
Fits Alongside Windows and Linux
Install BeOS right alongside Windows, Linux, or any other operating system. At startup, just choose which system to load. It's that simple. You can even read and copy data to BeOS from files created in other operating systems.
No Tedious Rebooting
With BeOS, each application runs in its own protected memory space. So if one crashes, the system and other applications don't even flinch. You're able to continue working uninterrupted while the crashed application reloads. Need to install a new driver or tool? Do it without rebooting!
"At One" with the Internet
Built with TCP/IP as its native communication protocol, BeOS interoperates flawlessly with the Internet right out of the gate. Email and Web browsing services are built in. Any BeOS system is able to serve up Web pages right from the start.
A Wealth of Applications Available
BeOS 5.0 Pro Edition comes complete with a Web browser, email client, media player, 3D Audio mixer, MP3 software, Real Player G2®, CD burner application, integrated development environment with source-level debugger, utilities, translators, and application demos.
In addition, you can choose from more than 1,000 powerful applications and tools currently available for BeOS, including: Audio, Video, Graphics, Office Productivity, Internet & Networking, Development Tools, Utilities, Games, and more.
BeOS will make you a believer that computers are here to make our lives easier. This, combined with a wealth of great applications, will help enhance your experience with this high-tech tool. Get it now and tell your family and friends about it. We are sure you are going to love BeOS. BeOS makes everything simple and easy. You have to see it to believe it.
BeOS 5.0 Pro Edition Feature List
In addition to all the exciting features found in the BeOS Personal Edition, BeOS 5.0 Pro Edition provides these great features:
Special Edition of Partition Magic.
Makes creating bootable BeOS partitions a breeze.
RealPlayer G2®.
Great streaming video and audio from the Internet.
BinkJet printer drivers.
Get outstanding print quality from most popular HP inkjet printer models
The Amazing 3D Audio Mixer.
If you haven't seen it, you haven't seen anything like it.
Technical support via e-mail and phone.
Expert advice at your fingertips.
Printed User's Guide.
Indeo 5 video Decode/Encode.
When it's time to get serious with those home movies.
MP3 Encoding.
Rip and encode your whole music collection!
In addition the Pro CD conveniently adds:
Full BeIDE development environment,
tools and example source code.
CL-Amp,
the nifty MP-3 Player and jukebox.
More demos, sample media, and fun!
Compatable Hardware
Check the BeOS Ready List (x86) or (PPC) for information on what hardware BeOS 5 supports. Also, Don't forget the check the FrizBe Hardware Matrix.
Click the image above for BeOS PE Download & Information
Click the image above to purchase BeOS Pro
Click here for BeOS Software Updates